10x Klassiker von Trax Records (inkl. Adonis, Marshall Jefferson, Phuture u.a.) und Diskografie der Jahre '85-87.
Anfang der 80er Jahre kaufte Larry Sherman das Vinylpresswerk Precision Pressing. Darauf gründete Vince Lawrence das Label Precision Records unter der Leitung von Larry. Hier wurden bereits die ersten Projekte von Jesse Saunders veröffentlicht.
Der Durchbruch kam aber erst mit Trax Records, das ab 1985 die ersten Releases herausbrachte und schnell zu einem der beiden Hauptakteure der frühen House- und Acid-Musik wurde (der andere war DJ International).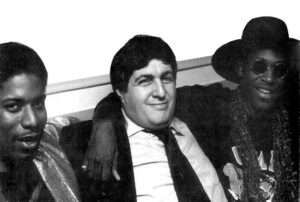 ---
10 Maxis von Trax Records von '85-87
Die BCM-Box "The History Of The House Sound Of Chicago" präsentiert auf der LP6 'Trax Classix'.
---
Adonis
No Way Back (Vocal) 4:58
1986, #TX112
Producer, Written: Adonis
Vocals: Gary B (Gary Baxter)
Debut Single von Adonis und einer der größten Hits auf dem Label.
Siehe das Special Adonis – The Early Years
---
Marshall Jefferson ft. Kevin Irving
Ride The Rhythm (Remix) 6:31
1986, #TX105
Producer, Written: Marshall Jefferson
Vocals: Kevin Irving
Mixed by Frankie Knuckles
Die Vocals in diesem Remix stammen von Kevin Irving.
Der Song ist Marshall's erste Veröffentlichung auf Trax Records.
Im gleichen Jahr erschien der Song auch mit den Vocals von Curtis McClain (TX121) unter dem Projektnamen On the House.
Siehe das Special On The House – The Early Years
---
Farley 'Jackmaster' Funk
Farley Farley 5:05
1985, #TX106
Producer, Written: Farley Jackmaster Funk
Mixed by Farley Jackmaster Funk
Der Song "Farley Farley" stammt von der EP "Funkin with the Drums again". Siehe das Special Farley Jackmaster Funk – The Early Years
---
Farm Boy
Jackin' Me Around (Farm Mix) 6:56
1986, #TX124
Written: David Watkins, Dean Anderson
Producer: Dean Anderson
Vocals: Erin Woods
Hinter dem Pseudonym Farm Boy verbirgt sich Dean Anderson.
Farm Boy hat 1986 neben dieser Trax Release auch auf DJ International den Song "Move" veröffentlicht.
---
Boris Badenough
Hey Rocky (Extended) 6:38
1986, #TX130
Written: Dean Anderson
Mixed by Frankie Knuckles
Ein weiteres Alias von Dean Anderson. Der Song spielt an auf Rocky Jones, dem Chef von DJ International.
Hintergründe hierzu, siehe Info unten.
---
Marshall Jefferson
The House Music Anthem
(Move Your Body) 7:46
1986, #TX117
Producer, Written: Virgo (Marshall Jefferson)
Vocals: Curtis McClain | Backing Vocals: On The House
Piano: Rudyard Forbes
Mixed by Ron Hardy
Ursprünglich von Marshall Jefferson als 'Virgo – Move your Body' geplant. Aber da Larry Sherman, Chef von Trax, den Song nicht 'housig' genug fand (wegen des Pianos), benutzte Marshall den Titel "The House Music Anthem".
Aufgrund der Begeisterung in der DJ-Szene veröffentlichte Trax dann schließlich den Song aber unter dem Namen Marshall Jefferson. [Mehr zu den unterschiedlichen Virgo Projekten]
Auf DJ International erschien der Song in einer Neueinspielung als "Move your Body" 1986 (#DJ941).
---
Sampson 'Butch' Moore
House Beat Box (Instrumental) 5:27
1986, #TX128
Written: Sampson Butch Moore, Steve Silk Hurley
Producer: Steve "Silk" Hurley
Engineer: Larry Sturm
Einziger Song von Sampson "Butch" Moore. Eine Produktion von Steve "Silk" Hurley, der 1986 mit "Jack Your Body" und JM Silk sehr erfolgreich war.
---
Sweet D
Thank Ya 5:35
1986, #TX119
Producer, Written: Sweet D, Chip E.
Producer: Farley Jackmaster Funk
Der Song "Thank Ya" enthält Samples von Cheryl Lynn's "Saved my Day". Die weiteren Songs dieser 4-Track EP sind Reinterpretationen von Eddie Grant-Time Warp, Isaac Hayes-I can't turn around und Jamie Principle-Your Love
---
Kevin Irving
Children Of The Night 6:50
1987, #TX145
Written: W. Grant (Dwayne Lamonte Grant)
Producer: Larry Sherman
Backing Vocals: Jermaine Stewart
Der Sänger von obigen "Ride the Rhythm", Chip E.'s "If you only knew" und weiterer Klassiker, hier mit "Children of the Night" veröffentlicht unter seinem Namen.
Siehe das Special Kevin Irving
---
Phuture
Your Only Friend 4:33
1987, #TX142
Written: DJ Pierre
Producer: Marshall Jefferson
Mixed by Marshall Jefferson
In der Tracklist von BCM ist der Song "Acid Tracks" angegeben, aber es wurde der Song "Your Only Friend" der B-Seite verwendet.
Siehe das Special Phuture, DJ Pierre
---
Song: "What's Up Rocky?" von Boris Badenough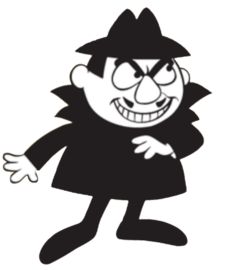 Für den Song "What's Up Rocky" ("Hey Rocky") hatte Dean Anderson den Namen Boris Badenough verwendet, in Anlehnung an die Cartoon Serie "Rocky & Bullwinkle". Er hatte bei dem Song Unterstützung von Larry Sherman (Chef von Trax Records). Der Song ist eine spaßige Abrechnung mit Rocky Jones (Chef des Hauptkonkurrenten DJ International).
Liedzeile:
"Hey Rocky – Watch me pull a rabbit out of my hat."
= "Schau zu, wie ich ein Kaninchen aus meinem Hut ziehe."
Siehe hierzu auch die Liner Notes | Beitrag bei AM, Then FM | Video mit Cartoon
Dean Anderson steckt auch hinter dem Projekt Farm Boy.
---
mehr von Trax Records:
siehe auch den Chicago Trax Sampler von BCM Records und London Records.
---
12″ Diskografie '85-87
Die Aufstellung führt die 12″ Main Releases auf (ohne Whitelabel ua.) und hat keinen Anspruch auf Vollständigkeit. Sortiert nach der Katalog Nummer und nicht nach dem Jahr der Veröffentlichung.
| Artist | Song | Cat. No. | Jahr |
| --- | --- | --- | --- |
| Le Noiz | Wanna Dance? | TX101 | 1985 |
| Jesse Velez | Girls Out On the Floor | TX102 | 1985 |
| Le Noiz | I'm Scared | TX103 | 1985 |
| Jack Master Funk / Jack Master Dick | Jack the Bass / Jack the Dick | TX104 | 1985 |
| Marshall Jefferson ft. Kevin Irving | Ride the Rhythm [Remix] | TX105 | 1986 |
| Farley Jackmaster Funk | Funkin with the Drums again | TX106 | 1985 |
| Vince Lawrence | Virgo Tracks again | TX107 | 1986 |
| Jesse Velez | Super Rhythm Trax | TX108 | 1985 |
| Ron Hardy | Sensation | TX109 | 1986 |
| Screamin' Rachael | My Main Man | TX110 | 1985 |
| Jackmaster Dick's Revenge | Sensuous Woman goes Disco | TX111 | 1986 |
| Adonis | No Way Back | TX112 | 1986 |
| Sleezy D | I've Lost Control | TX113 | 1986 |
| Virgo (Marshall Jefferson) | Free Yourself | TX114 | 1986 |
| Fresh | Dum Dum Part Two | TX115 | 1986 |
| The Rude Boy Farley Keith | Give Your Self to me | TX116 | 1986 |
| Marshall Jefferson | The House Music Anthem (Move your Body) | TX117 | 1986 |
| Master C & J | When you hold me | TX118 | 1986 |
| Sweet D | Thank Ya (EP) | TX119 | 1986 |
| Adonis | We're Rocking Down the House | TX120 | 1986 |
| On the House | Ride the Rhythm | TX121 | 1986 |
| Willie Wonka | What is House? | TX122 | 1986 |
| Radio Fashion | What you Deserve | TX123 | 1987 |
| Farm Boy | Jackin' Me Around | TX124 | 1986 |
| Fat Albert | Beat me till I Jack | TX125 | 1989 |
| Santos | Work the Box | TX126 | 1986 |
| Mr. Fingers | Washing Machine / Can You feel it | TX127 | 1986 |
| Sampson "Butch" Moore | House Beat Box | TX128 | 1986 |
| Jungle Wonz | The Jungle | TX129 | 1986 |
| Boris Badenough | Hey Rocky! | TX130 | 1986 |
| Lidell Townsell | Party People Jack Your Body | TX131 | 1987 |
| Robert Owens | Bring Down The Walls | TX132 | 1986 |
| Terry Baldwin | Housemaster | TX133 | 1987 |
| 2 Houss People ft. Cynthia M | Move My Body | TX134 | 1987 |
| Jungle Wonz | Time Marches On | TX135 | 1987 |
| On The House | Give Me Back The Love | TX136 | 1987 |
| Mr. Lee | I Can't Forget | TX137 | 1987 |
| Mystery | Mystery Girl | TX138 | 1987 |
| Eric Bell | Your Love | TX139 | 1987 |
| Mr. Lee | Come To House | TX140 | 1987 |
| William S | I'll Never Let You Go | TX141 | 1987 |
| Phuture | Acid Tracks | TX142 | 1987 |
| Dalis | Rock Steady | TX144 | 1987 |
| Kevin Irving | Children Of The Night | TX145 | 1987 |
| Two Of A Kind ft. James Earl | Somewhere In West Hell | TX146 | 1987 |
| Pleasure Zone | Fuck Charley | TX147 | 1987 |
| Doctor Derelict | Dance Doctor | TX148 | 1987 |
| Dean Anderson | Don't Stop | TX149 | 1987 |
| Frankie Knuckles ft. Jamie Principle | Baby Wants To Ride | TX150 | 1987 |
| Frankie Knuckles ft. Jamie Principle | It's A Cold World | TX151 | 1987 |
| Hercules | Lost In The Groove | TX152 | 1987 |
| Dancer | Am A Dog | TX153 | 1987 |
| Evie | Just Stay The Night | TX154 | 1988 |
| Rich Martinez | Are You Ready | TX155 | 1988 |
| Mr. Lee | House This House | TX156 | 1987 |
| Pierre's Pfantasy Club | G. T. B. (Got the Bug) | TX157 | 1987 |
---