Hinter "Gherkin Jerks" steckt Larry Heard, der unter diesem Alias zwei Alben veröffentlichte. "Stomp the Beat" und "1990".
Infos zu den Alben und zum Label "Gherkin Records".
Larry Heard, bekannt durch Mr. Fingers und Fingers Inc., hat bei diesem Projekt Gherkin Jerks mehr mit technoiden Sounds experimentiert und hiermit (wieder) die zukünftige House Musik geprägt.
Diskografie
Gherkin Jerks – Stomp The Beat '88
This Side:
"Sympte Suite"
Don't Dis The Beat 4:05
Tar-Disc 5:04
Acid Indigestion 4:48
That Side: (Logo Seite)
Midi Beats 5:00
Parameters 4:41
Din Sync (Get Up And Do Your Thang) 4:49
Stomp the Beat – Credits und Infos

Gherkin Records – GKE 1052

Produced & Mixed by the Gherkin Jerks for TREB Productions.
© & (P) MRS. TWILLIE MUSIC 1988
Man. & Dist. by Gherkin Records & Dist.

Re-Release:
Das Album wurde 2002 auf Larry Heards Label Alleviated Records erneut veröffentlicht. (ML-2219)
Gherkin Jerks – 1990 '89
This Side:
Meltdown 5:05
Blast Off 4:53
Red Planet 5:12
Pickle Side: (Logo Seite)
Saturn V 5:03
Space Dance 4:45
Strange Creatures 4:57
Der Projektname Gherkin Jerks taucht noch vereinzelt in den Credits von anderen Larry Heard Arbeiten auf. So zum Beispiel als Remixer bei Gallifré ft. Mondeé Oliver – Don't Walk Out On Love.
---
Das Label: Gherkin Records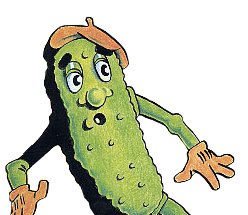 Veröffentlicht wurden die Alben auf Gherkin Records.
Das Label wurde ca. 1988 von Brett Kevin Wilcots und Jim Stivers gegründet.
Brett hat unter dem Pseudonym Kevin Dixon auf dem Label u.a. für Mondeé Oliver, Gallifré und North / Clybourn geschrieben, produziert, gemixt.
Das Label unterhielt zudem noch einige Sublabels, zum Beispiel: Rio Records (inkl. Rio.D), Resound Records (Vincent Floyd), Total Spectrum Records (Knight Writers).
Einen guten Überblick über das Label liefert der Sampler "Best of Gherkin Records Vol.1" von 1990 (Discogs).
Gherkin produced a number of heavy House tracks that took the Chicago sound from its early jacking Acid incarnation toward a deeper, more sophisticated House sound; still bearing signature gurgling 303s while incorporating a jazzier new direction in places.

Legendary Children
---
Übrigens:
Gherkin" heisst übersetzt ins Deutsche: "Gurke" und erklärt (ein wenig) das Logo des Labels.
Websites Gherkin Records: