Das zweite Album von Tyree Cooper, inkl. der Hits "Let the music take control" und "Move your Body". Infos zum Album und Übersicht der Maxi-Auskopplungen.

Das Album: Nation of Hip House '89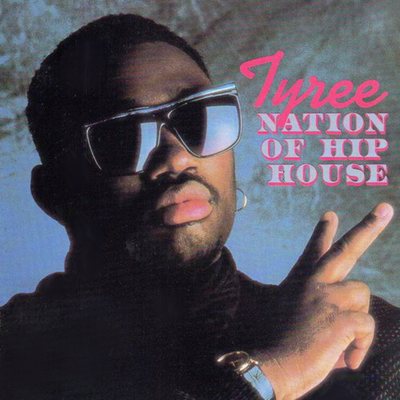 Album Tracklist:

Let The Music Take Control (5:24)
Guest Vocals: Anthony Thomas
Hip House Is A Style (4:48)
Written: Tyree & Ke-Fresh | Guest Vocals: Anthony Thomas
Tonight (5:00)
Written: Tyree & N. Johnson | Producer: Tyree & Rocky Jones | Music: Peter Black
The Nation Of Hip House (5:13)
Written: Ke-Fresh
Move Your Body (5:32)
Written: Tyree & J.M.D.
This Is How It Should Be Done (4:39)
Rap [Featuring]: Fast Eddie
On The Smooth Tip (4:15)
Night Time (4:48)
Written: Tyree & N. Johnson | Guest Vocals: Anthony Thomas | Guitar: Robert Bond

Bonustrack: nur auf Tape und auf einigen CDs erschienen

Ruthless 4:05
Written: Tyree, Ke-Fresh & M.C. Dee | Guitar: Jack LeTourneau
Credits und Backcover

Produziert von Tyree ("Tonight" zusammen mit Rocky Jones)
Piano und Keyboard: Wayne Gray & Joe Smooth

Vocals: Anthony Thomas #1,2,8 | Fast Eddie #6

Engineers: Craig S. Loftis, Jack LeTourneau, Joe Smooth All cuts are DJ International recordings recorded at Underground Studios, Chicago, IL and published by Popstar Publishing, Inc. (C)(R) 1989 / BMI.

Photography: James Alexander Newberry, Chicago, IL
Design: Earth Star Graphics, Evanston, IL
Special thanks:

Special thanks to:
My Mother and Father, Brother: John John, Sis: Chic, My Wife: Naomi R. Cooper
Super peace to: D.J. International Records
Rocky Jones, Benji Management, Benji Espinoza, Ya!Ya!, (Lil Sis) Sundance, The Hard Core Hip House Posse, Ke-Fresh, Julian "Jumpin" Perez, Farley "JMF", J.M.D., Craig S. Loftus, Fast Eddie, From New York: Slick Rick The Ruler, Anthony Thomas
and finally my Homey Tony Alcarese, Wayne Gray, Mike Dunn, Martin "Boogieman" Luna, Hugo-H,
My Dancers: Eric (Sex) Newsone, Tyrell (Kayo) Walker, Alpha Beta Boys in Chi Town.
Die Maxi-Singles zum Album:
Tyree ft. J.M.D. ‎– Move Your Body '89

12″ Original
D.J. International Records – DJ991

Move Your Body (Julian "Jumpin" Perez Mix) 5:31
Move Your Body (LP Version – Tyree Mix) 5:24
Move Your Body (Boogie Man (Boogie Mix)) 5:24
Move Your Body (Tyree (Lost His Vocal) Tyree Mix) 5:23

die Maxi CD DJCD-991 enthält noch den Bonustrack:

Turn Up The Bass 5:08 (ft. Kool Rock Steady)

---

12″ U.K. Only Mixes
D.J. International Records – 655470 8

Move Your Body (Hipper House Mix)
Move Your Body (Tyree (Found His Vocal) Remix)
Move Your Body (Tyree Remix)

Info: Der Song enthält einen Sample von The J.B.'s mit "Pass the Peas".

---

Matias be Tyree Move Your Body 1989
Tyree – Let The Music Take Control '90

12″ Original
D.J. International Records – DJ998

Let The Music Take Control (Julian "Jumpin" Perez Mix) 5:32
Let The Music Take Control (Tyree's Groovstrumental Mix) 5:08
Let The Music Take Control (Tyree's House Is In Control Mix) 5:17
Let The Music Take Control (Fast Eddie's Funky Drummer Mix) 5:11
Tyree – Hip House Is The Style '90

12″ Original
D.J. International Records – DJ928

Hip House Is The Style (LP Mix) 4:43
Hip House Is The Style (Joe Smooth Mix) 6:26
Hip House Is The Style (Tyree's Mix) 4:43
Hip House Is The Style (Boogie Man's Style Mix) 6:01

---

Tyree - Hip House Is The Style (Joe Smooth Mix)
---
Tyree Cooper Websites:
geboren in Chicago, lebt seit 2000 in Berlin