Vince Lawrence ist einer wichtigsten Wegbereiter der Chicago House Musik.
Infos über Vince, wie alles began, Diskografie (inkl. 'Virgo Tracks again'), Labels und Projekte

First Step: Fast Cars
Es began damit, dass Vince Vater Nemiah Mitchell Jr seinem Sohn einen Synthesizer (Moog-Prodigy) schenkte.
Vince, der leidenschaftlich elektronische Musik von Gruppen wie Kraftwerk, Fad Gadget und YMO hörte, fing an selber Stücke zu schreiben.
Mit 15 oder 16 Jahren wollte sein Vater ihm zeigen, wie man eine Platte macht – herausgekommen ist dabei der Track: "(I Like to Do It In) Fast Cars"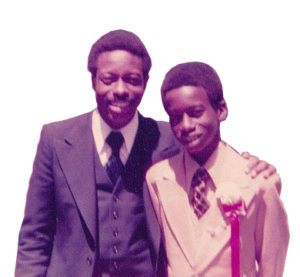 Vince erinnert sich an die Entstehung:
Well, the session happened after my dad says, "Hey, we're going to make a record," and I said, "Great, this is cool."
I very quickly put together a band [Z-Factor] to support my synthesizer playing and wrote this song.
"Fast Cars" ist 1983 auf Mitchbal Records erschienen.
Gegründet wurde Mitchbal Records Ende der 70er von seinem Vater Nemiah Mitchell Jr und David Baldwin (Mitch+Bal).
Die ersten Aufnahmen zum Stück gehen aber zürück bis 1981.
---
Der Z-Factor
Vince gründete darauf die Gruppe Z-Factor. Zusammen mit Jesse Saunders arbeitete er an neuen Tracks.
Siehe hierzu das Z-Factor Special
Der erste House Song aller Zeiten
Vince hat zusammen mit Jesse Saunders Anfang 1984 den Song "On & On" veröffentlicht. Für viele gilt dieser Song als der erste House Song überhaupt. [mehr Infos]
Der Song basiert auf den Track von Z-Factor "Fantasy" (vom August 1983).
Im Handel erhältlich waren beide Songs wohl ziemlich zeitgleich.
Der nachfolgende gemeinsame Track "Funk U Up", erschienen unter Jesse Saunders, ist jedenfalls der erste House Song der es in die Billboard-Charts schaffte und im Radio gespielt wurde.
Label Gründungen

"On & On" erschien auf dem von Vince & Jesse Saunders 1983 gegründeten Label Jes-Say Records. Gepresst wurde die Platte im Chicagoer Presswerk 'Precision Records Labs Limited', der Besitzer Larry Sherman wurde aufmerksam auf diesen neuen House Sound und fragte sogleich bei Vince an. Zusammen gründeten sie das Label Precison Records.
Später starteten die Beiden das legendäre Label Trax Records.
Von Januar '83 bis Juni '86 war Vince bei Trax Records als Senior-Vize-Präsident im Bereich Marketing und A&R (Artists and Repertoire) tätig.
Diskografie Vince Lawrence
Bei zahlreichen Songs hat er als Co-Author oder als Texter mitgewirkt.
So hat er zum Beispiel bei Ron Hardy's einziger Release "Sensation" als Autor mitgewirkt und den Text geschrieben für "Love can't turn around".
Zudem war er neben "Z-Factor" auch als Bandmitglied bei "Virgo" tätig.
Unter eigenem Namen veröffentlichte Vince Lawrence aber nur wenig.
Die EP "Virgo tracks again" enthält 8 kurze Instrumental Tracks (ohne Namen) und ist quasi ein Skizzenbuch für den nachfolgenden House Sound.
Vince Lawrence – Virgo Tracks again EP '84
Vince Lawrence – Thorns 12″ '84

Label: Mitchbal Records – MB8403

Thorns (Vocal)
Thorns (Dub, Accapella & Instrumental)

Written By: Vincent Lawrence & Jesse Saunders
Mixed: Vincent Lawrence | Producer: Mitchbal | Guitar [Space Guitar]: Carlos Santiago
Mastered By: LS (Larry Sherman – Gründer von Trax Records)

Info: Auskopplung aus dem Z-Factor – Dance Party Album
weitere Projekte
Dr. Derelict – Under Cover 12″ '84

Label: Jes Say Records – JS 9996

Under Cover (Long Version) 6:08
Under Cover (Acca Pella) 3:07
Under Cover (Dub A Cover) 5:59
Under Cover (Bonus Freaks) 3:55

Written-By: Duane Buford, Jessie Saunders, Vince Lawrence, Wayne Williams
Mastered By: LS (Larry Sherman) | Producer: Jesse Saunders

Info: Dr. Derelict ist ein Alias von Wayne Williams
Gwendolyn – Come To Me 12″ '84

Label: Precision Records – PR 101

Come To Me (Long) 7:02
Come To Me (Radio) 3:30
Come To Me (Remix) 5:58
Remix: Farley "Funkin" Keith

Written-By: Vince Lawrence, Jessie Saunders
Producer: Jessie Saunders
Midnight – In A Heartbeat 12″ '85

Label: Jes Say Records – JS 9993

In A Heartbeat 6:59
In A Heartbeat (Dub) 7:26

Written-By: Jessie Saunders, Vince Lawrence
Producer: Jessie Saunders | Engineer: George Warner | Mixed By, Arranged By: The Say Co.
Lillian – Night Flight 12″ '86

Label: Precision Records – PR 107

Night Flight (Extended) 4:05
Night Flight 6:15
Night Flight (Dub) 7:04
Night Flight (Accapella) 2:20

Written-By: Jessie Saunders, Vince Lawrence
Producer: Jessie Saunders
Bang Orchestra! – Sample That! 12″ '86

Label: Geffen Records #0-20510

Sample That! (Club Mix) 6:16
Vocals: E – V (Evie Camp) | Mixed By: Ralphi Rosario
Sample That! (Instrumental) 6:16

Mixed By, Written-By, Producer: Vince Lawrence
Engineer: Ron Gresham | Recorded at Chicago Trax Recording
Bang Orchestra! – Rush 12″ '88

Label: Precision Records – PR108

Rush (Medusa Mix) 5:40
Rush (Metro Mix) 5:41
Transmitt (Dance) 5:42
Transmitt (Dub) 5:43

Written-By: EV (Evie Camp), Vince Lawrence
Copyright: Trax Records
Gotham City – Bat Trax 12″ '89

Label: Trax Records – TX187

Bat Trax 6:10
Bat Trax Dub 6:05

Written-By: Arnold Hennings, Vince Lawrence
Mastered By: BP (Bud Pressner) | Producer: Vince Lawrence
sowie Tracks mit Jesse Saunders (Jesse's Gang).
Zudem als Remixer für verschiedene Künstler. (z. B. 1986 Taffy – I love my Radio).
Siehe auch das Old-Stuff Foto Album von Vince auf Facebook.
---
House knows no race, religion or sexual preference. House music isn't just for the rich or the poor, dumb or intellectual… house music is the backing track to life. It moves in all directions.

Vince Lawrence
Websites:
Vince Lawrence (z. T. auch Vincent Lawrence)
Geboren am 06.01.1964, in Chicago, Illinois.
Nennt sich jetzt auch Vingo
---