Reichlich verwirrend! Es gibt zwei Künstler die beide Virgo heissen und beide bei Trax Records (u.a.) veröffentlicht haben.
Zum Glück sind beide sehr empfehlenswert, so das ein Fehlkauf auszuschliessen ist.

1. Virgo
Der Namen Virgo war ein Alias von Marshall Jefferson, der hier oft gemeinsam mit Vince Lawrence und teilweise mit Adonis einige der besten Chicago-House Songs kreiert hat:
Zum Teil erscheint der Name "Virgo" nur in den Credits als Produzent:
Marshall Jefferson – "Move your Body (House Music Anthem)"
Sleezy D – "I've Lost Control"
Website: Discogs
2. Virgo
That was one of Larry's ideas.
Felt since we were unknown and our stuff was in the same vibe that it would add some name recognition.
Our name was M.E.
We were very against Larry changing it. We had no idea until he started pressing 'em up. We were somewhat furious, but finally went along with it because we were so into doing the music and not so worried about a name.

Merwyn Sanders
---
Die beiden haben ursprünglich unter dem Namen "M.E." veröffentlicht.
(steht für die Vornamen: Merwyn Sanders & Eric Lewis)
aber auch unter dem Namen "Ace & the Sandman"
auf dem Sampler "Jackmaster 5" gibt es noch weitere Projektnamen.
Die Liste der Veröffentlichungen ist recht kurz aber das Album "Virgo" von 1989 gilt für viele als das beste House-Album aller Zeiten.
Das Album wurde jetzt von Rush Hour Re-Released. Zu kaufen bei: Rush Hour | Amazon
---
und dann wäre da noch
Virgo 4 / Virgo Four und mehr
Dahinter steckt auch wieder das Duo.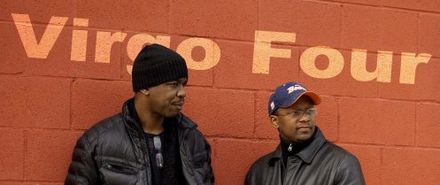 Virgo Four Umbesetzung:
2014 verliess das Gründungsmitglied Merwyn Sanders das Projekt.
Seitdem besteht Virgo als Duo aus Eric Lewis und Terence Ivy.
Websites:
---
Übrigens: Virgo bedeutet übersetzt Sternzeichen Jungfrau