Infos zur EP "Jam Tracks" von 1985 + Diskografie der Early Years und Website Links
Kenny hat zunächst bei kleinen Radio Stationen aufgelegt und die Hörer fragten sogleich ob sie ihn für Disco Partys buchen könnten.
So hat er mit einen mobilen Disco Service später sein Geld verdient.
Die Discos und die Anerkennung wurden größer – Kenny J. (sein damaliger Spitzname) hat dann einen Vertrag mit Chicagos großem Radio Sender W.D.A.I. abgeschlossen um "Disco Hot Mixes" zu kreieren.
Später wurde Kenny "Jammin" Jason einer der Gründer des Chicago House und Mitglied des legendären Hot Mix 5 DJ Teams, das auf dem Radio Sender WBMX 102.7 FM die House Musik populär machten.
Kenny hat als DJ zahlreiche Auszeichnungen gewonnen "Battle of the DJ's" und "Billboard Best Regional DJ Award 1980".
---
Diskografie
---
Kenny's erste eigene Veröffentlichung "Jam Tracks" ist eine Konzept EP mit 6 instrumentalen Titeln.
(die wohl größtenteils auf der Roland TR-808 basieren.)
Jam Tracks EP '85

Label: D.J. International Records #DJ 891

Jam Track (4:50)
Jammin The Snare (4:15)
Jackin The Tracks (3:05)
Clap Crazy (4:05)
No Water Needed (3:05)
The Shit (4:30)

Credits:
Executive Producer: Rocky Jones
Producer, Written-By: Kenny Jason
Produced for K.J.S Inc.
Distributed By: Quantum Distributors

Jam Tracks Label
---
Kenny produzierte und (re)mixte noch zahlreiche weitere großartige House Klassiker. (u.a. für Fast Eddie und Liz Torres)

Hier einige Tracks, bei denen er die Finger im Spiel hatte:
weitere Maxis von '83-'88

Z-Factor – (I Like To Do It In) Fast Cars '83
Label: Mitchbal Records #MB8300 | Remix: Kenny Jason (Underground Remix)
Matt Warren – Rock The Nation '85
Label: Alwan Records #AL-P101 | Remix: Kenny Jason
Liz Torres ft. Kenny "Jammin" Jason – What You Make Me Feel '86
Label: Underground #UN 107 | Produced by: Kenny Jason for KJS Inc.
Pablo Gonzalez – I Want You '86
Label: Sound Pak #R-1027 | Mixed: Kenny Jason (Club Mix)
Kenny "Jammin" Jason with "Fast" Eddie Smith – Can U Dance '87
Label: DJ International #DJ932 | Written: Eddie Smith & Kenny Jason
Produced by: Kenny "Jammin" Jason for K.J.S.
Ralphi Rosario ft. Xavier Gold – You Used To Hold Me '87
Label: Hot Mix 5 Records #HMF 102 | Co-producer: Kenny Jason
Remix: Kenny Jason
Kenny "Jammin" Jason & Fast Eddie ft. Paris Grey – Don't Want It '87
Label: Hot Mix 5 Records #HMF 106 | Written: Eddie Smith, Candy J., Kenny Jason
Producer: Kenny Jason for KJS Inc. | Mixed: Kenny Jason | Lyrics: Candy J, Kenny Jason
Mickey Oliver – In-Ten-Si-T '87
Label: Hot Mix 5 Records #HMF 109 | Remix: Kenny Jason (Kenny's Mix)
Ralphi Rosario – In The Night '87
Label: Hot Mix 5 Records #HMF 112 | Producer, Keyboards [Additional]: Kenny Jason (für "Kenny's Night Mix)
Mario Diaz ft. Mr. Lee – Can You Feel It '88
Label: Hot Mix 5 Records #HMF 113 | Executive Producer: Kenny Jason, Mickey Oliver, Ralphi Rosario | Mixed: Kenny Jason
Candy J – Desirable Revenge (The Saga Of Sweet Pussy Pauline) '88
Label: Hot Mix 5 Records #HMF 115 | Producer: Kenny Jason | Executive Producer: Kenny Jason, Mickey Oliver, Ralphi Rosario | Mixed: Kenny Jason
---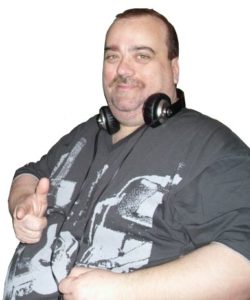 ---
Kenny ist immer noch (seit nun mehr 35 Jahren) aktiv als Radio DJ