Kurze Biografie und Diskografie der ersten Veröffentlichungen von Farley (bis ca. 1986) und Website-Links

Biografie:
Farley Keith Williams (geboren am 25.01.1962, in Chicago, Illinois)
hat 1981 angefangen als Mitglied der DJ-Crew "Hot Mix 5", die bei der Chicagoer Radio Station WBMX in der Sendung 'Saturday Night Live Ain't No Jive' den aufkeimenden House-Sound unter die Hörer brachten.

Farley hat als DJ auch im legendären Warehouse Club aufgelegt. (an der Seite von Larry Levan!)
Er began eigene Stücke unter dem Namen "Farley Funkin' Keith" aufzunehmen, die zumeist weniger als Song zu verstehen sind, sondern vielmehr als Konzept – als Blaupause für spätere Songs von Farley (und stilprägend für andere Künstler und das gesamten Genre).
1984 veröffentliche er "Funkin' with the Drums" auf seinem Label "House Records" welches laut Farley "The First House Record Ever" ist.
Farley über die Anfänge der Chicago House Szene:
We started experimenting, playing with drum machines.
Jesse Saunders was on board with me at the Playground at the time, and he was a musician.
In the early days, the kick drum and the electric tom-toms of the 808 was enough to make people dance without even putting any music to it.
So a lot of the stuff was just beat tracks in the beginning.
Then we came to steal everybody's basslines. See, all we ever did was regurgitate disco again by just stealing everybody's music.
Because all the original house stuff that came out was somebody else's bassline.
---
Spätestens mit dem unerwarteten und riesigen Erfolg von "Love can't turn around" (Der erste Nr.1 House Song) war Farley Jackmaster Funk allen Club-Gängern ein Begriff.
Farley, der sich selber gerne als "King of House" bezeichnet, hat Ende der 80ziger noch einige tolle Tracks veröffentlicht. (It's U, Free Man, U ain't really House…)
Seit den 90zigern ist Farley überwiegend als DJ aktiv und scheint sich mehr dem Glauben zu widmen.
Diskografie Early Years:
Funkin with the Drums '85
Aw Shucks (Let's Go Let's Go) '85
Jack the Bass | Jack the Dick '85
Funkin with the Drums again (EP) '85
Give Your Self To Me '86

Veröffentlicht unter dem Namen: "The Rude Boy Farley Keith"

Label: Trax Records (TX116)

Give Your Self To Me (6:31)
Give Your House To Me (6:31)

Producer: Danny Wilson (Sweet D.) und Jackmaster Funk
Vocals: Kevin Irving, Ricky Dillard

mehr Infos zu Kevin Irving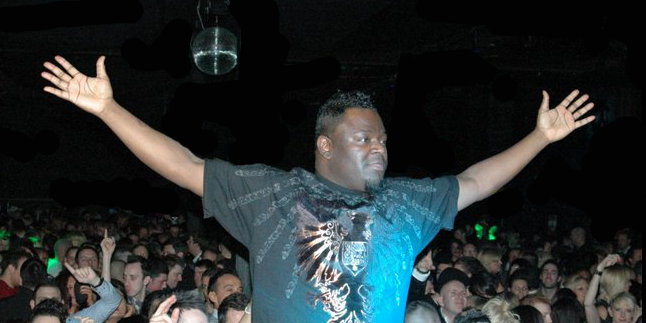 Websites: