Infos zu dem Mix Album "In the House" und kurze Biografie von Vaughan Mason (Raze u.a.) und Websites
Vaughan Mason & Crew war bereits Ende der 70er Jahre erfolgreich mit coolem Disco-Funk-Rap.
Der Song "Bounce, Rock, Skate, Roll" erreichte 1980 Platz 5 in den Black Singles Charts und ist bis heute ein Klassiker.
Danach veröffentlichte er zusammen mit Butch Dayo auf dem legendären Label Salsoul Records.
Mitte der 80er Jahre hat er sich dann zunehmend der House Musik zugewendet, zunächst als Toningenieur bei den Power Play Studios und bei Tuff City Records.
1986 gründete er dann das Label Grove Street Records auf dem zahlreiche Produktionen von ihm erschienen. So zum Beispiel das sehr erfolgreiche Projekt Raze. (Hits: "Jack the Groove", "Break 4 Luv" u.a.)
---
Vaughan Mason – In the House '87
Compilation gemixt von Vaughan Mason mit zusätzlichen Vocal (Rap)-Bridges.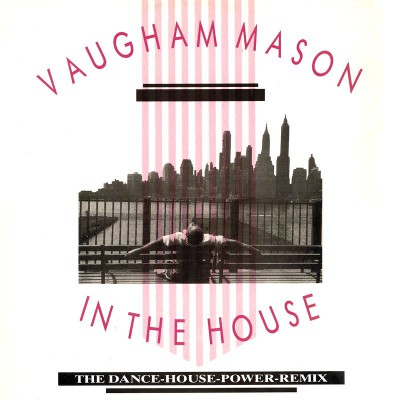 Info: Schönes Cover – aber mit Schreibfehler! Richtig ist Vaughan
"In the House" Mix Album – Tracklist

Raww – Don't you try it '86
Written: Tyrone Martin | Label: Emergency Rec. #EMDS-6567
Russ Brown – Gotta find a Way '86
Written: Russ Brown | Producer: Russ Brown, Tee Scott | Label: Jump Street Rec. #JS 1001
Raze – Jack Up Work Your Body '86
Written: Vaughan Mason, Ben Epps | Label: Grove Street Records #GSR-009
Tia – Boy Toy '86
Written: Charles Burbank | Label: RCA Victor #5769-1-RD
Cultural Vibe – Ma Foom Bey '86
Written: Eddie Davis, Winston Jones | Label: Easy Street Rec. #EZS-7525
Benetta & Kevin – Jack Your Body Up Now '86
Written: Ben Epps | Producer, Mixed: Vaughan Mason | Label: Grove Street Records #GSR-010
Master Jay & Michael Dee – Ready to Rock '84
Written: Jimmy Ross | Label: Rocky Records #RR 4002
Sofonda C. – Pick it up '87
Written: Siano & Melissa Murray | Producer: Nick Siano | Label: Klub Records #KR-511
Private Possession ft. Hunter Hayes – This Time '86
Written: Ace Mungin, Blaze, Shedrick Guy | Label: 4th & Broadway #BWAY-428
Icarus – Stone Fox Chase '86
Written: McCoy, Haley, Buttrey | Label: Unidisc #MM-012
---
I don't read [music], I don't write it, and I can't sing, but I can hear how it's supposed to go, it's a mathematical formula for me.

Vaughan Mason | Quelle: Baltimore Sun
---
Vaughan Mason hat Ende 2006 das Buch "The Music Business Bible" [Cover] veröffentlicht, in dem er erklärt wie man im Musik-Business zum Star wird.
Im gleichen Jahr hat er auch den BMI Songwriter Award gewonnen, als Co-Autor von 'The Game ft. 50 Cent – How we do'.