Das deutsche Label BCM Records veröffentlichte 1988 die Box "The History of the House Sound of Chicago" als 12x LP +3 bzw. 15x CD. Hier die Infos zur Box.
BCM hatte zuvor zwei Sampler mit dem "House Sound of Chicago" veröffentlicht [Vol.1] [Vol.2] und dann zur Krönung diese großartige Box:
Die Box beinhaltet ein sehr schönes Booklet mit der Entstehungsgeschichte der House Musik.
Siehe hierzu: "The Story of House" (in deutscher Übersetzung)
12x LP Box …from the very beginning…
Die Box als "Special limited Editon contains 120 Tracks on 12 LPs"
01-02 The Tracks That Built The House

siehe hierzu das Special: The Tracks that built the House

Colonel Abrams – Trapped
Shirley Lites – Heat You Up (Melt You Down)
Candido – Jingo
Positive Force – We Got The Funk
First Choice – Let No Man Put Asunder
Jimmy 'Bo' Horne – Spank
Two Man Sound – Que Tal America
Sharon Redd – Can You Handle It
Geraldine Hunt – Can't Fake The Feeling
Sparque – Let's Go Dancing

---

D-Train – You're The One For Me
Raw Silk – Do It To The Music
Ripple – Beat Goes On
Klein & M.B.O. – Dirty Talk
Martin Circus – Disco Circus
Fat Larry's Band – Act Like You Know
T-Connection – At Midnight
D-Train – Keep On
Telex – Moskow Diskow
Instant Funk – I Got My Mind Made Up
03 DJ International – The Early Years

siehe hierzu das Special: DJ International – Early Years 1985-86

J.M. Silk – Music Is The Key (House Key)
Arrogance – Crazy (Club Mix)
The It – Donnie (Radio Mix)
Shawn Christopher – People Of All Nations (Club Mix)
Chip E. ft. K. Joy – Like This (Extended Mix)
Farm Boy – Move (Club Mix)
J.M. Silk – Shadows Of Your Love (House Mix)
Mark Imperial – J'Adore Danser (Club Mix)
White Knight – Never Give Up (Club)
Fingers Inc. – A Path (Club Mix)
04 The DJ Underground Tracks

siehe hierzu das Special: Underground Records – Early Years

Liz Torres ft. Kenny 'Jammin" Jason – What You Make Me Feel (Fierce Mix)
House Rockers ft. Frankie 'Hollywood' Rodriguez and Jimmy L.A. Perna – Everybody Do It! (Hollywood Mix)
House People – Godfather Of House (Club Version)
E.S.P. – It's You (Vocal)
Tyree ft. Chic – I Fear The Night (Subterranean Mix)
Fingers Inc. – It's Over (Dub)
Raz – Amour Puerto Riqueno (Puerto Rican Lover) (Spanish Club Mix)
Fingers Inc. – Mystery Of Love (Club Mix)
Steve 'Silk' Hurley – Jack Your Body (Club)
Professor Funk & The House Brothers – Work Your Body Rap
05 DJ International Classics

siehe hierzu das Special: DJ International Classics

Mario Reyes – What Ever Turns You On (Club Mix)
Farley 'Jackmaster' Funk ft. Ricky Dillard – It's U (House Mix)
Chip E. – Time To Jack
Femme Fion – Jack The House
MKII – Used By DJ (Vocal)
Kenny 'Jammin" Jason with Fast Eddie – Can U Dance
Fingers Inc. – It's Over (Club Mix)
Dymond – Wild About Your Love (Club Mix)
Chip E. – If You Only Knew (Radio Edit)
Julian 'Jumpin" Perez ft. Connie V. – Jack Me 'Til I Scream (Jumpin' Mix)
06 Trax Classix

siehe hierzu das Special: Trax Classix

Adonis – No Way Back
Marshall Jefferson ft. Kevin Irving – Ride The Rhythm (Remix)
Farley 'Jackmaster' Funk – Farley Farley
Farm Boy – Jackin' Me Around (Farm Mix)
Boris Badenough – Hey Rocky (Extended)
Marshall Jefferson – The House Music Anthem (Move Your Body)
Sampson 'Butch' Moore – House Beat Box (Instrumental)
Sweet D – Thank Ya
Kevin Irving – Children Of The Night
Phuture – Your Only Friend
07 The Chicago Independents

siehe hierzu das Special: The Chicago Independents

Farley 'Jackmaster' Funk ft. Darryl Pandy – Love Can't Turn Around
Denise Motto – IMNXTC
Ralphi Rosario ft. Xaviera Gold – You Used To Hold Me
Libra Libra – I Like It
Liz Torres ft. Edward Crosby – Can't Get Enough (Club)
House Master Boyz & The Rude Boy Of House – House Nation
On The House – Pleasure Control (Radio)
The Elect – I'm House
Hercules – 7 Ways (Vocal)
Ramos – The Jackin' National Anthem
08-09 The Anglo-American House

siehe hierzu das Special: The Anglo-American House (Teil 1)

Blaze – Whatcha Gonna Do (Vocal)
Mel & Kim – Showing Out (Get Fresh At The Weekend) (The Mortgage Mix)
Cleavage – Barah (The House Mix)
Phil Fearon – Ain't Nothing But A House Party
Harlequin Four's ft. Barbara Tucker – Set It Off
Jack 'N' Chill – The Jack That House Built
Raze – Jack The Groove
Kissing The Pink – Certain Things Are Likely (Garage)
Cultural Vibe – Ma Foom Bey (Love Chant Version)
Mirage – Jack Mix #2

---

siehe hierzu das Special: The Anglo-American House (Teil 2)

Nitro Deluxe – This Brutal House (US Version)
Jack E Makossa – The Opera House
Mel & Kim – Respectable (Tabloid Mix)
Gary L – Time (Time To Party)
Wired – To The Beat Of The Drum (On The Burn Mix)
2 Puerto Ricans, A Blackman And A Dominican – Do It Properly (Def Mix)
Lenny Dee & Tommy Musto – Everything Bamboo (Club Version)
Wally Jump Jr & The Criminal Element – Turn Me Loose
The Movement – The Movement
Home Wreckers– Jackin' (EMU Style)
10 The Lost Tracks

siehe hierzu das Special: The Lost Tracks '85-87

Risqué Rhythm Team – 122 House
Matt Warren – Way To My Heart (Club Mix)
Mink – What Does It Take (Fashion Mix)
Rythim Is Rythim – Nude Photo
Philly Cream – Love Can't Turn Around (Vocal Club Version)
Quest – Mind Games (Street Mix)
Kreem – Triangle Of Love (Vocal Mix)
Master Plan – Electric Baile (Commercial Mix)
Billie – Nobody's Business (Radio Mix)
Thompson & Lenoir – Can't Stop The House (Vocal Mix)
11 The House Remixes

siehe hierzu das Special: House Remixes & Remakes

Chic – Jack Le Freak
Loleatta Holloway – Hit And Run '88 Gotta Be Number One
Dalis – Rock Steady
Cerrone – Supernature '88
Patrick Adams ft. Larri Lee – Jack In The Bush
Freeez – I. O. U.
Paris Grey – Don't Make Me Jack (Tonite I Want To House You)
John Rocca – I Want It To Be Real
Turntable Terror Trax – Let's Begin
Farley 'Jackmaster' Funk and The Shy Boyz – U Ain't Really House
12 House – The Future

siehe hierzu das Special: House – The Future

Criminal Element Orchestra – Put The Needle To The Record
Jellybean ft. Steven Dante – The Real Thing (West 26th Street Mix)
Kelly Charles – You're No Good For Me (Club Mix)
L.A. Mix – Don't Stop Jammin' (The Brutal Remix)
Rhythim Is Rhythim – Strings (Flam-Boy-Ant Mix)
M|A|R|R|S – Pump Up The Volume (Original Version)
Full House – Communicate (Club Mix)
Secret Secret – We Came To Jack
T-Coy – Cariño
The Beatmasters ft. The Cookie Crew – Rok Da House (Remix)
Ende der ursprünglichen 12x LP Box (B.C. 70-2060-49).
The Story Continues
3x LP Set als Erweiterung (BCM 39138) der Box mit "30 Tracks to complete the collection".
13 Pop Goes The House

siehe hierzu das Special: Pop Goes The House

Bomb The Bass – Beat Dis
S'Express – Theme From S-Express
Coldcut ft. Yazz and The Plastic Population – Doctorin' The House
Krush – House Arrest (The Beat Is The Law)
Yazz and the Plastic Population – The Only Way Is Up
Was (Not Was) – Spy In The House Of Love
2 Men A Drum Machine And A Trumpet – Tired Of Getting Pushed Around
Penthouse 4 – Bust This House Down
Cut To Shock ft. E.F. Cuttin' – Put That Record Back On
Pop Stars – Pop Goes The House
14 The Acieed Trax

D Mob ft. Gary Haisman – We Call It Acieed (The Matey Mix) 5:46
Fast Eddie – Acid Thunder 4:34
The Night Writers – Let The Music (Use You) 7:57
Swan Lake – In The Name Of Love (Club Mix) 5:23
Tyree – Acid Over (Tyree's Mix) 6:31
Jolly Roger – Acid Man (Original Mix) 5:04
Baby Ford – Oochy Koochy (F.U. Baby Yeh Yeh) (Konrad Cadet Mix) 5:49
Royal House – Can You Party (Todd Terry's B-Boy Remix) 6:08
Bam Bam – Give It To Me 6:12
Adonis and The Endless Poker's – The Poke 5:56
15 The Future – Deep House And More

Inner City – Big Fun 7:20
Phase II – Reachin' (Brotherhood Mix) 5:57
The Bighouse ft. Shampel "C" with D.J. Mack – Get Off That Wall (Vocal) 5:52
Jungle Brothers – I'll House You 4:58
Paul Rutherford – Get Real (Happy House Mix) 5:55
Kraze – The Party 6:13
Fingers Inc. ft. Chuck Roberts – Can You Feel It 5:32
Jamie Principle – Baby Wants To Ride (Club Mix) 6:28
Bam Bam – Where Is Your Child 5:39
The Todd Terry Project – Weekend (Club Version) 5:48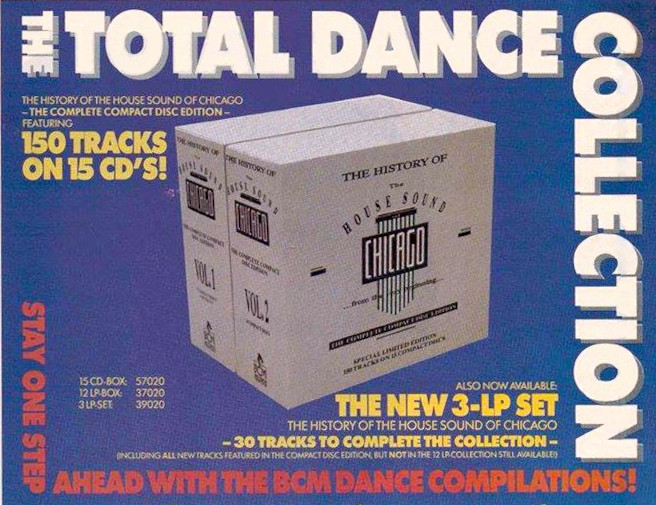 15x CD The Complete Edition
Die CD Box (BCM 57020), unterteilt in Vol.1-8 und Vol. 9-15 mit 150 Tracks auf 15 CDs als "Special Collector's Edition".
---
---
Ich habe die 12x LP Box am 19.01.1988 für 99,- DM bei Membran in Flensburg gekauft. Und bin seitdem ein großer House Fan.