Die erste Acid House Compilation in Deutschland! Mit dem Besten aus den USA und Europa.
Der US House Sound eroberte im Sommer 1988 England!
Die Musik der Clubs und die Club-Kultur hat sich so massiv geändert das man vom zweiten "Summer of Love" spricht. Das Symbol dieser Bewegung war der Smilie. Aber nicht nur in UK sondern auch in Deutschland war fortan Acid, House und Techno angesagt.
Die Sampler sind keine reine Acid House Zusammenstellung, sondern vielmehr ein Best-of Club Tracks.
Zusammengestellt von Dieter Stemmer für BCM Records.
…it's a great new sound, a TRIP, where all your musical experiences will be forgotten. You will scream A-C-I-E-E-D all night long and groove in the clubs until your legs won't keep you up!…

Auszug Album Liner Notes Vol.1 (siehe unten)
---
Acieed Inferno Volume 1 '88
Acieed Inferno Vol.1 Tracklist

Label: BCM Records | Releases: LP #BCM 33014, CD #50014, Tape: #60014

Jolly Roger – Acid Man (Original Mix) 5:04
Written, Arranged, Mixed, Producer: Eddie Richards
Adonis ft. M.C. Kodak – H.O.U.S.E. (Acid Mix) 7:38
Written, Producer, Mixed, Edited: Adonis
Swan Lake – The Dream (54 Dub Mix) 5:01
Written, Producer, Mix, Edit: Todd Terry | Arrange, Engineer: Tony D. | Percussion: Tito Libran
Cut To Shock ft. E.F. Cuttin' – Put That Record Back On (Acid Remix) 4:49
Written: Barry Zeger & Craig Bevan | Producer, Engineer, Mixed: Craig Bevan | Mixed: Tony Rodriguez
The Housefactors – Play It Loud 7:04
Producer: Larry Heard | Engineer: Mike Konopka
Alaska – Bailando (Balearic Matey Mix) 5:39
Written: Carlos García Berlanga, Ignacio Canut | Producer: Jesús N. Gómez | Producer [Additional], Remix: The Democratic Three | Engineer [Remix]: Tom O'Leary
Tyree – Acid Over (Tyree's Mix) 4:31
Producer, Mixed, Written: Tyree Cooper | Mixed: Joe Smooth, Rocky Jones
Phuture – Acid Tracks 5:43
Written: DJ Pierre, Herbert J., Spanky | Producer, Mixed: Marshall Jefferson
Fast Eddie – Acid Thunder (Tyree's Mix) 4:31
Written: Fast Eddie, Peter Black | Producer: Rocky Jones | Remix: Tyree Cooper
Reese & Santonio – Rock To The Beat 4:11
Written, Producer: Kevin Saunderson

Bonus Tracks CD:

Jack E Makossa – Opera House (Acid Fingers Strikes Again Mix) 6:07
Written, Producer: Arthur Baker | Remix: Simon Harris
X-Ray – Let's Go (Dub Mix) 9:27
Written: Juan Atkins & Derrick May | Producer, Mixed: Juan Atkins
Acieed Inferno Volume 2 '89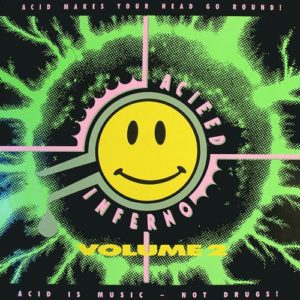 Acieed Inferno Vol.2 Tracklist

Label: BCM Records | Releases: LP #BCM 33220, CD #50220, Tape: #60220

Rififi – Dr. Acid & Mr. House (Blue Movie Mix) 5:08
Written: Andreas Thein, Jochen Schmidt, Ralf Dörper | Composed, Producer: Rififi
Kenny Jammin' Jason & Fast Eddie – Can U Dance ('89 Acid Remix) 6:09
Written: Eddie Smith, Kenny Jason | Producer: Kenny Jason | Remix: Fast Eddie, Tyree Cooper | Executive-Producer: Rocky Jones
Mr. Fingers – Can U Feel It 5:47
Written, Producer: Larry Heard
Longsy D's House Sound – This Is Ska (Skacid Mix) 5:17
Written, Producer, Mixed: Longsy D | Edited: Longsy D, Patrick T. Rojan | Engineer: Colin James, Kevin Harris, Longsy D, Serge Glanzberg | Executive-Producer: Patrick T. Rojan
Kid Paul & The Weird Club ft. Hitman – Acid In My House (Mambo D.J. Mix) 6:46
Written: F. Luchs, Frank Langer | Producer: Frank Langer | Co-producer: F. Luchs | Engineer: G. Krüger
Brandon Cooke ft. Roxanne Shanté – Sharp As A Knife (Acid Attack) 6:30
Written: Andy Wilde, Brandon Cooke | Producer: Greg Walsh | Remix: Dizzie Dee, Jon Williams | Horns: Gordon Matthewman (Blow)
The Beat Pirate – Are You On 1 Matey? (Acid Mix) 6:08
Written: Jens Lissat, Peter Harder | Mixed, Producer: The Beat Pirate
Farley 'Jackmaster' Funk – You Ain't Really Acieed (Acieed Mix) 7:08
Written: Eric Matthew, Toney Lee, Farley 'Jackmaster' Funk | Producer: Farley 'Jackmaster' Funk
Cover Version von Status IV "You Ain't Really Down"
Bootleggers – Hot Mix III (X-Plicit-Mix) 5:05
Mix inkl. der Songs:
"Rock Of Ages" (Traditional), "Can You Party" (Royal House), "So Many Ways (Do It Properly Part Two)" (Clivilles & Cole), "I'll House You" (Jungle Brothers), "Big Fun" (Inner City), "We Call It Acieed" (D-Mob), "In The Name Of Love" (Swan Lake), "Sendin' All My Love" (The Jets) and "Fake 88" (Alexander O'Neal)
2 U Hi! – Go 'Head (The Stroboscope Mix) 5:36
Written: Nigel Wright, Robin Sellars | Producer: Sylvester Slick | Engineer: Donny London

Bonus Track CD:

Ceejay – He's So Divine (Acid Remix) 6:07
Written, Producer: Bernard Oattes, Rob Van Schaik | Remix: Ben Liebrand
Cover Version von The Limit "She's So Divine"
---
aus dem Covertext von Vol.1:
ARE YOU REALLY EXPERIENCED?
Let's hope so, 'cos if not you'd better change your life quickly!
Why, not ask yourselves that question now? Because the "Summer of Love" has finally reached the smoke-filled and Stopos-lighted clubs of Germany; and though we're now well into Autumn the nights have never been HOTTER this year!
This is where it's happening, man.
Acid rules the country from Berlin, Bremen in the North down to Munich in the South. The happy smiling faces are to be seen in all the in-places, i.e. "Shangrila" in Hamburg and "Bango" in Cologne.
Whatever you have missed up 'til now on the floor, you can now stretch the borders of your consciousness.
What's responsible for this excitement, craziness and sheer mania?
It's the brand new, totally original, never-to-be-heard-before sulphoric sound, which is known all over the world as ACIEED.
This is really something different — no song, no structure, no melody, not even a catchy chorus you can sing along with, and barely a solid human voice. This is strictly no Hip-Hop, no Funk and no Soul, and is not what you could describe as good music; but don't get us wrong — it's a great new sound, a TRIP, where all your musical experiences will be forgotten. You will scream A-C-I-E-E-D all night long and groove in the clubs until your legs won't keep you up! It's true when they say that it's an INFERNO, but WHAT AN INFERNO!!
This is the first Acid compilation on the BCM label, and the very first from Germany. BCM brings you with this compilation the very best of Acid wether it comes from London or Chicago, titles such as Jolly Roger's "Acid Man", one of the biggest Acid sounds made in the British capital, and many more of the hottest sounds around, i.e. Tyree's "Acid Over", which should not be taken literally! What about "Acid Tracks" by Chicago's Phuture, which probably started the whole Acid movement.
On the other side you get to know the Detroit version of this new dance sound. In Detroit they call it Techno, Reese and Santonio make sure that it works as well as Acid.
But we still haven't mentioned Swan Lake a.k.a. Todd Terry, the producer who is the real witchdoctor of the New York House. This is just one of the titles you know from clubbing at the weekends, but have forgotten with the troubles of the week. With this compilation we want to make sure that you listen to the sound the whole week long!
By this stage, we feel that you'll really know what it means to be experienced!
LOTHAR GORRIS (SPEX MAGAZINE)
ACID IS MUSIC — NOT DRUGS
---
Vol.2 enthält auch einige deutsche Beiträge:
German Aciied
Rififi
= Andreas Thein, Mitbegründer von Propaganda ("Dr. Mabuse") und Ralf Dörper, von der Band Die Krupps.
Kid Paul
= Paul Schmitz-Moormann, weiteres bekanntes Projekt gemeinsam mit Cosmic Baby: Energy 52 ("Café Del Mar")