Sampler-Reihe erschienen auf Serious Records (aus London) mit 12"-Versionen aus Funk, Soul und House.
Begrüßung auf Volume 1:
Welcome to the Upfront series of dance collections. This is the first of many that will give you the latest and hottest selection of US and UK club sound's.
With the price of imports and UK 12" singles today we know you'll find this Upfront 1 double album an unbeatable bargain.
We wish you many pleasurable hours from both listening and dancing to this compilation album.

Mahesh Bajaj und Damon D'Cruz
Die ersten Teile dieser Compilation Serie sind eine Mischung aus Funk, Soul und Hip-Hop. Im Laufe der Zeit ist der House-Anteil immer größer geworden. Ab 1987 erschien zudem die "Best of House" Serie.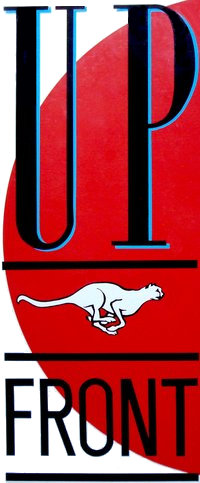 ---
Upfront 1 ('86)

Release: als LP: #UPFT 1 | Tape: ZCUPFT 01

Princess – I'll Keep On Loving You (Funky-Sister's Remix) 6:33
Producer: Stock, Aitken & Waterman – [Supreme]
Joyce Sims – All And All (Mantronik Mega Mix) 6:21
Producer, Mixed: Mantronik with Robbie Watson's Smokin' Amigo Prod. – [London]
Total Contrast – What You Gonna Do About It (Dance Mix) 7:31
Producer: Steve Harvey | Mixed: Merlin Bobb, Timmy Regisford – [London]
Crown Heights Affair – Make Me The One (U.S. Version) 4:58
Producer: Donny Linton | Written: R. James – [City Beat/Beggers Banquet]
Steve "Silk" Hurley – Jack Your Body (Dub Mix) 5:13
Producer: Steve "Silk" Hurley – [D.J. International]
George Clinton – Do Fries Go With That Shake 10:25
Producer: George Clinton, Stephen Washington – [Capitol]
T.C. Curtis – Let's Make Love (Extended Mix) 5:10
Producer, Arranged: T.C. Curtis | Composed: William Alexander Smith – [Hot Melt]
Cool Notes – Into The Motion (Club Mix) 6:06
Producer: Bobby Eli – [Abstract Dance]
Rochelle Fleming – Love Itch (Radio Mix) 4:04
Producer: Greg Carmichael | Mixed: Eli Turbo – [Crossover]
William Bell – Headline News (Extended Dance Mix) 5:18
Producer: William Bell, Mike Stewart, Albert Burroughs – [Toutensemble]
Spyder-D ft. DJ Doc – I Can't Wait 6:29
Producer, Mixed: Eric Matthew, Mike Bona – [Profile]
MC Boob – Do The Fila & Pee Wee Dance 4:21
Producer, Mixed: J & S Productions (Warren McGlove) – [Pop Art]
Ice-T – Ya Don't Quit (Scratch Mix) 4:33
Producer: Ice-T, The Unknown DJ | Scratches: DJ Evil E – [Macola]
V.A. – Brooklyn's In The House (Hip Hop Mega Mix) 13:30
Mixed: Evil Eddie for Dy-na-mix – [Zakia/Cherry Red]
inkl. Cut Master D.C-Brooklyns in the House | Spyder D.-I can't wait | Ice T.-Ya don't quit | M.C. Boob-Do the Fila and Pee Wee's Dance
Upfront 2 ('86)

Release: als LP: #UPFT 02 | Tape: ZCUPFT 02

Princess – Tell Me Tomorrow (Weekend Remix) (5:33)
Main Ingredient – Do Me Right (Extended Club Mix) (5:10)
Pieces Of A Dream – Say La La (New York Street Mix) (7:07)
Fatback Band – I Found Lovin' (Original Album Mix) (4:04)
Mondo Kane – New York Afternoon (5:47)
Willie Colón – Set Fire To Me (Latin Jazzbo Version) (7:35)
Debby Blackwell – Once You Get Me Going (Extended Vocal Mix) (6:34)
Nova Casper – Turned On To You (Dance Mix) (5:44)
Willie Collins – Where You Gonna Be Tonight? (5:00)
Cultural Vibe – Ma Foom Bey (Love Chant Version) (5:26)
Real Roxanne – With Hitman Howie Tee (Bang Zoom) Let's Go Go! (6:02)
Eric B. – Eric B. Is President (5:00)
Salt 'N' Pepa – I'll Take Your Man (6:23)
MC Boob – Bring The Beat Back / Yo Mutha (Exclusive Serious Mix) (7:29)
Chad Jackson – Hip Hop Megamix (7:12)
Upfront 3 ('86)

Release: als LP: #UPFT 03 | Tape: ZCUPFT 03

Loose Ends – Slow Down (Dancin' Danny D & Godwin Logie Remix) (6:58)
Hanson & Davis – Hungry For Your Love (Club Mix) (8:01)
Mel & Kim – Showing Out (The Mortgage Mix) (6:32)
DJ Hollywood – Um Tang Um Tang (Serious, Exclusive Radio Edit) (3:53)
Tourist – Hooked On You (5:25)
One Way – Don't Think About It (Extended Version) (7:02)
Marshall Jefferson – Move Your Body (The House Music Anthem) (7:56)
T.C. Curtis – Slave Of Love (Club Version) (4:15)
Calvin – Time Keeps Movin' On (Club Mix) (6:20)
Affinity- Pick Me Up (Rock Me Non Stop) (6:00)
Robbie B – Rock The Go Go (Vocal Mix) (5:23)
UTFO – Split Personality (Remix) (5:31)
Ultramagnetic MC's – Ego Tripping (5:25)
Jewel-T – Believe It Or Not (4:39)
CJ Mackintosh – Hip Hop Megamix (11:00)
Upfront 4 ('87)

Release: als LP: #UPFT 4 | Tape: ZCUPFT 04

Loose Ends – Nights Of Pleasure (Nick Martinelli Re-mix) (5:41)
Producer: Nick Martinelli – [Virgin Rec.]
Heavy D. & The Boyz – Mr Big Stuff (5:10)
Producer: Andre Dr Jekyell & Harrell – [MCA Rec.]
Hindsight – Small Change (Spare A Dime Mix) (5:18)
Producer: Camelle Hinds – [Virgin/Circa]
Master C & J – Face It (Club Version) (7:08)
Producer: Jessie Jones – [State Street Rec.]
Projection – Love Struck (Exclusive Master Mix) (5:01)
Producer: Andy Soyka – [Elite Rec.]
Darlene Davis – I Found Lovin (Club Mix) (7:01)
Producer: Elai Tubo & Kevin 'Sugar Daddy' Woodley – [Take One Rec.]
House Master Boyz & The Rude Boy Of House – House Nation (Serious House Mix) (6:04)
Mix beated by The Rude Boys – [Dance Mania Rec.]
Vesta Williams – Don't Blow A Good Thing (4:36)
Producer: Brian Loren & Billy Valentine – [A&M Rec.]
EU Freeze – It's A Family Affair (4:24)
Producer: Max Kid – [TTED Rec.]
Ray, Goodman & Brown – Take It To The Limit (4:47)
Producer: Mike Harris & Rahni Songs – [EMI Rec.]
Upfront 5 ('87)

Release: als LP: #UPFT 05 | Tape: ZCUPFT 05

Nitro Deluxe – Let's Get Brutal (UK Edit) (7:03)
Gap Band – Keep Holding On (Album Version) (4:28)
Stardom Groove – It's Too Late For Love (Upfront Remix) (7:49)
Turntable Terror Trax – House On Fire (5:20)
Scherrie Payne & Phillip Ingram – Incredible (Dance Remix) (6:38)
Wally Jump Jr & The Criminal Element – Turn Me Loose (Extended Version) (7:39)
Millie Scott – Every Little Bit (5:14)
Cutmaster D.C. – Brooklyn Rocks The Best (6:01)
J.M. Silk – Let The Music Take Control (8:34)
Meechelle La Chaux – Love Me All Over (Club Mix) (4:11)
Upfront 6 – The Cat's Whiskers ('87)

Release: als LP: #UPFT 06 | Tape: ZCUPFT 06

Sybil – Let Youself Go (Extended Dance Mix) (7:38)
Millie Scott – Let's Talk It Over (Album Cut) (4:40)
Full House – Communicate (Sprint Appella Mix) (5:20)
Eleanore Mills – Mr.Right (Club Mix) (6:04)
T.C. Curtis – Love's Got Me On A Merry-Go-Round (Fairground Dance Mix) (3:30)
On The House – Give Me Back The Love (Club Mix) (7:21)
Mel & Kim – Respectable (Tabloid Mix) (7:43)
Kenny "Jammin" Jason & "Fast" Eddie Smith – Can U Dance (Club Mix) (6:00)
ZUSHii – Surprise Surprise (Re-Mix) (6:24)
Keni Stevens – Cannot Live Without Your Love (Original Album Mix) (3:27)
Upfront 7 – Chilled In Heaven ('87)

Release: als LP: #UPFT 07 | Tape: ZCUPFT 07

Colonel Abrams – How Soon We Forget (6:48)
Mantronix – Scream (Jack 'N' Chill Mix) (6:13)
Masterpiece – I Can't Wait (Club Mix) (5:12)
Darlene Davis – Loveline (12 Inch Mix) (6:39)
Duane & Co. – J.B. In Heat (Original Version) (4:34)
Mel & Kim – F.L.M. (Auto Mix) (7:15)
Russ Brown – Gotta Find A Way ('87 Mix) (4:44)
Oliver Cheatham – Wish On A Star (Extended Mix) (5:06)
King Sun-D Moet – Hey Love (Extended Version) (6:02)
Spoonie Gee – The Godfather (Marley Marl Mix) (4:51)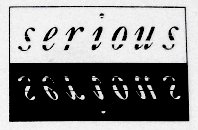 Upfront 8 – Solid State ('87)

Release: als LP: #UPFT 8 | Tape: ZCUPFT 08

M|A|R|R|S – Pump Up The Volume (Extended Mix) (5:00)
Criminal Element Orchestra – Put The Needle To The Record (12″ Club Mix) (6:16)
Stephanie Mills – Your Puttin' A Rush On Me (Extended Version) (8:22)
House Master Boyz And The Rude Boy Of House – House Nation (Remix) (6:08)
Intrique – Together Forever (Edit) (3:41)
Pulse – Shut Up Allready! (Fierce Mix) (4:23)
Sweet D – Crazy D (Insane Mix) (5:48)
Blaze – If You Should Need A Friend (6:04)
Sybil – My Love Is Guaranteed (P.W.L. Mix) (6:12)
Tagé – Just A Tease (Club Mix) (6:19)
ZUSHii – Say Goodnight (Extended Mix) (6:20)
Derek B – Get Down (5:24)
Various – Gangster Mix (House Style) (8:02)
Upfront 9 – A Sign Of The Times ('87)

Release: als LP: #UPFT 09 | Tape: ZCUPFT 09

Jerome "Secret Weapon" Priester – Say You'll Be (US Mix) (5:58)
Steve Arrington – Kelly 16-33 (Album Version) (5:04)
Jody Watley – Don't You Want Me (Re-Mix) (6:38)
Phase II – Mystery (Mystery Mix) (4:42)
Triple XXX – The Bedroom Scene (Straight Up Mix) (5:53)
Heavy D. & The Boyz – The Overweight Lovers In The House (12″ Mix) (3:32)
St. Paul – Soul Touch (Import Album Mix) (4:18)
Bam Bam – Give It To Me (Extended Mix) (5:44)
Model 500 – Off To Battle (Revamp) (6:28)
Cookie Crew – Females (Extended 12″ Mix) (4:59)

+ Bonus Classic Groove ('75-80)

Loleatta Holloway – Runaway (4:45)
Produced: Salsoul Orchestra | 1977
L.A. Boppers – Give Me Some (5:48)
Produced: L.A. Boopers | 1979
Salsoul Orcestra – Youre Just The Right Size (3:38)
Produced: Vince Montana | 1975
L.A. Boppers – Wrap You Up (4:47)
Produced: L.A. Boopers | 1980
Upfront 10 ('88)

Release: als LP: #UPFT 10 | Tape: ZCUPFT 10

Bomb The Bass – Beat Dis (Extended Mix) (5:48)
Rob Base & Dj E-Z Rock – It Takes Two (Extended Mix) (4:50)
Mini Curry – 100% (6:12)
Eric B. & Rakim – I Know You Got Soul (Norman C + Dj.D Remix) (4:01)
Bam Bam – Give It To Me (Double Trouble Remix) (6:19)
Cut To Shock – Put That Record Back On (Massive Mix) (6:23)
Royal House – Party People (Club Rub Dub Rub Rubber Dub) (6:35)
Nitro Deluxe – This Brutal House (Uk Edit) (6:38)
Bou Kahn – Magic (Club Mix) (5:42)
Jack Frost – Cool & Dry (Acid Mix) (5:15)
Lidell Townsell – Get The Hole (Acid Tab Mix) (5:56)
Double Trouble – The Mad On Acid Megamix (7:30)
Upfront 11 ('88)

Release: als LP: #UPFT 11 | Tape: ZCUPFT 11

S-Express – Theme From S-Express (Extended Mix) (5:06)
Phuture Pfantasy Club – Slam (Trax Over-Ride Mix) (4:55)
By All Means – I Surrender To Your Love (Album Version) (4:21)
Royal House – Can You Party (Remix) (5:58)
Barbara Lynn – You Make Me So Hot (Album Version) (6:41)
Steven Dante – I'm Too Scared (Acid – Danny 'd' Remix) (3:33)
Cybertron 't' – Turntable Do It (4:47)
Mr. Lee – Feels Good (Acid Trax Mix) (4:59)
Reese & San Antonio – Back To The Beat (With The Sound) (5:00)
Taurus Boyz & Kevin Henry – You Are The One (Club Mix) (4:51)
Disco Twins & Starchild – Do That Right (Radio Mix) (3:27)
Upfront 89 ('89)

Erschienen auf dem neu gegründeten "Upfront Dance Limited" Label
Release: als LP: #UPFT 89 | CD: CDFT 89 | Tape: ZCFT 89

Adeva – Respect (The Mixes) (7:38)
Bipo – Why (Exclusive Upfront Mix) (6:01)
Joe Smooth – Going Down (5:40)
Turntable Orchestra – Your Gonna Miss Me (Club Mix) (6:31)
Monie Love – I Can Do This (Uptown & Downtown Mix) (6:43)
Fast Eddie – Jack To The Sound (5:01)
Bonnie Byrd – We Can Make It (Club Mix) (5:56)
Ebonee – Long Way To Go (Dance Edit) (3:26)
Gang Starr – Gusto (3:16)
Hithouse – Jack To The Sound Of The Underground (7:52)
Skinny Boys – Set The Pace (Say Yeah) (3:47)
Liz Torres – Touch Of Love (Club Mix) (5:42)
Various – The Be Upfront Or Drop Out Mix (6:50)